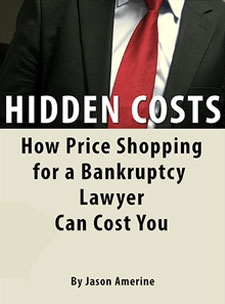 Our firm gets calls all the time from people who are desperate for help after using another bankruptcy attorney that pretended to be cheap.
BEWARE! As those clients will tell you, not every lawyer is the same — and some of them will hide major costs!
Before you ever hire a lawyer, read our free report "Hidden Costs: How Price Shopping for a Bankruptcy Lawyer Can Cost You." It explains what to be aware of when picking a bankruptcy lawyer.
What hidden fees should you ask about?
What's the worst that could happen from choosing the wrong lawyer?
What services will a great bankruptcy lawyer offer?
Don't fall for misleading offers from lawyers who aren't looking out for your best interests. Protect yourself and your finances.
Get your free copy of our report today.